UEFA Football Doctor Education Programme (UEFA FDEP)
The UEFA FDEP is the leading education programme for medical professionals working in national associations who want to develop their skills and knowledge to provide better protection for players.
Programme overview
The UEFA Football Doctor Education Programme (FDEP) is a three-part programme teaching doctors from all 55 UEFA member associations the key skills required of the modern football doctor. The programme adopts a blended learning approach, marrying face-to-face workshops where doctors learn and practise techniques with an online e-learning support platform containing instructional videos, tests of participants' knowledge and process guidelines for doctors to refer to at any time. The first workshop covers various topics related to trauma and emergency treatment of players on the pitch, the second reviews the diagnosis and treatment of football-specific injuries, and the third covers a broad variety of topics related to player protection, including nutrition, psychology and rehabilitation.
Quick view
Estimated hours of learning
Faq
Who

Doctors nominated by their football national association and capable of running and teaching the workshops at national level upon completion of the workshop

When

One workshop per year (workshop 1 held every two years, workshops 2 and 3 are each held every four years)

How Long

2.5 days per workshop

Where

Across Europe

Price

Covered by UEFA

Number of participants

55 (one per national association)

Academic certification

Continuing professional development (CPD) after workshop 1

Language

English

Applications

Applications open in 2020; National associations only
Takeaways
Deeper theoretical and practical knowledge of the requirements of the modern football doctor
Broader network of medical professionals in national associations
CPD credit (subject to successful completion of workshop 1)
Accreditation to cascade the programme in their own country (on passing the final exam)
IS THIS PROGRAMME
SUITED FOR YOU?
Dr. Merab Vardzukashvili
39, Georgian
National Team Head Doctor of the Georgian Football Federation
Merab is a sports medicine doctor since over 10 years. He used to work at national and international levels in different clubs and for the national team. He then has decided to be a part of the FDEP family because football doctors in his country needed to have one good educational system model and the UEFA FDEP meets their needs. The FDEP programme gave them the opportunity to speak the same "football medicine" language with other participants.
Skills
Sports injury treatment
Rehab
Prevention
Looking for
an increased knowledge in taking care of players on the field.
an exchange of experience and best practices of foreign colleagues.
a better communication with colleagues when traveling out of Georgia.
Roadmap
1.
Trauma & medical emergencies
Every two years; dates and location TBC for 2020/2021
This workshop takes place every two years. The dates and place for the next edition (season 2020/21) are not confirmed yet.
The workshop will include the following modules:
Cardiac Arrest and Choking
Medical Emergencies
Trauma Emergencies
Head injuries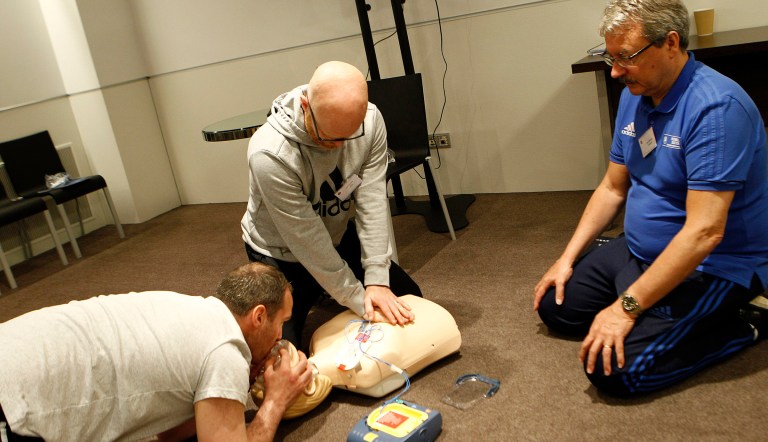 2.
Injury diagnosis & treatment
Every four years; dates and location TBC for 2022/23
The workshop will include the following modules:
Overview of Football Injuries
Managing Injuries in Competitive Situations: The Laws of the Game
Muscle Injuries
Groin Injuries
Knee Injuries
Ankle Injuries
Overuse Injuries
3.
Protecting the player
Every four years; dates and location TBC for 2021/22
The workshop will include the following modules:
Injury Prevention
Rehabilitation in Football Medicine
Psychology
Football Nutrition
Fatigue and Recovery in Football
Nutritional Supplements
Anti-Doping
Match and Tournament Preparation
Pre-competition and Pre-Transfer Medical Screening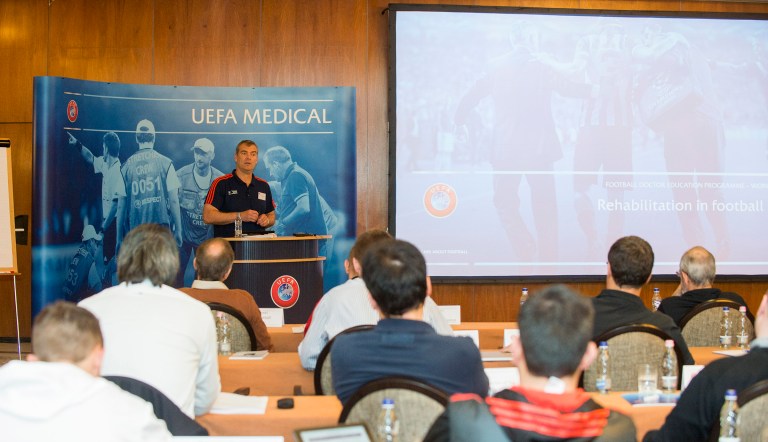 What our students and experts say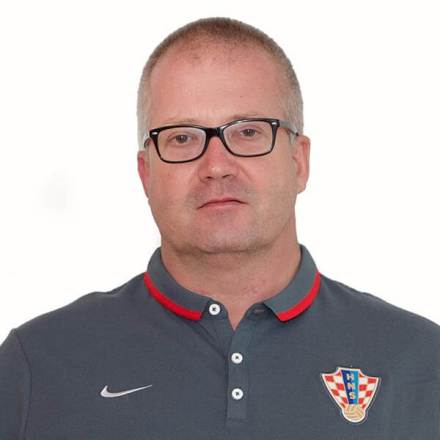 "The cascaded FDEP course in Croatia was the perfect way to develop football-specific medical knowledge in our country. With the support of UEFA, there can be no doubt that we have enhanced the knowledge of our elite doctors and improved the effectiveness of Croatian football medicine."
Zoran Bahtijarević, Head of Medical Staff
Croatian Football Federation
"The course was superb and it helped me broaden my scientific knowledge. I would wholeheartedly recommend this seminar to doctors working in football. Football in Spain is benefitting a lot from the UEFA FDEP, especially in terms of improved care and in the opening up of new areas of research."
José Antonio Rodas, Under-17 team doctor
Royal Spanish Football Federation
OUR PARTNERS

Royal College of Physicians and Surgeons of Glasgow