UEFA Career Transition Programme (UEFA CTP)
The UEFA CTP is a unique vocational programme for players who are either reaching the end of their playing career or have recently retired and need to plan for their professional future. It will help you to identify your transferable skills, gain a better understanding of the job opportunities available, and learn how your knowledge and experience can be reapplied.
Programme overview
The programme features talent tests, self-assessments, interviews, case studies and role play to help you analyse your strengths and personality. UEFA experts will present a variety of professional openings and share their insights and knowledge in a series of interactive presentations.
As a highlight of the course, former professional players will share inspiring stories about how they successfully managed their own career transition. At the end of the programme, you will carry out an engaging case study featuring real-life situations so that you can narrow the field. UEFA experts will also help you identify the next step and draw up a career action plan. We encourage applications from male and female footballers and futsal players. There is a limited number of participants per session to ensure the programme remains interactive.
Bootcamp or online edition
The online CTP is aimed at players who are currently thinking about their second career. They will have access to exclusive content, experts and mentors at a limited cost and without any constraints, through virtual role play exercises and discussions with their peers all over the world.
The bootcamp on the other hand has been designed as a unique experience for 20 top players who are already at the end of their playing career. You will get to spend five exciting days at the home of European football in Switzerland. Outdoor teambuilding activities, face-to-face sessions with mentors, exercises and extensive networking opportunities make this the ultimate programme for you to shape your future in football. In exchanges and reflection during a busy week of lessons and development, you will receive top-class guidance and insights from our experts and mentors. You will also live unforgettable moments of sport, friendship and personal growth through interaction with other participants.
Quick view
Estimated hours of learning
Faq
Who

Professional players who have recently retired or are about to retire

When

Bootcamp: 13-17 June 2022 // Online: 23-26 August 2021

How long

Bootcamp: 5 days // Online: 4 days

Where

Bootcamp: UEFA HQ, Switzerland // Online: worldwide

Price

Bootcamp: €6500 // Online: €1900

Number of participants

Bootcamp: 15-20 // Online: 15-25

Academic certification

Certificate of completion

Language

English

Contact us

+4179 829 21 46
Important dates
31 Jul 2021

Applications deadline for the Online edition

23 Aug 2021

Launch of the Online edition

30 Apr 2022

Applications deadline for the Bootcamp edition

13 Jun 2022

Launch of the Bootcamp edition
Takeaways
A clear view on the different career options available within the world of football
Guidance and advice on how to make the right decision regarding "what's next?" in your career
Key skills and tools to successfully manage your career transition
Action plan for your life after football
WHAT OUR STUDENTS AND EXPERTS SAY
"As a player I gained experience on the pitch, in the dressing room and the stadium. I saw football from a wide range of perspectives and learned how to harness the skills of leadership, motivation and teamwork to build a successful career on the pitch. But when I retired I needed to understand how to use these skills to find the right role for my future. I realised the importance of working with mentors and developing my business knowledge to secure the role I am in today. The UEFA CTP will offer you a pathway to the next stage of your career, and with the support of UEFA's mentors you will better understand where you see your future."
Maxwell Sherrer, Chief of Football Development, UEFA
OUR PARTNERS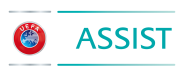 UEFA ASSIST

FIFPRO