Innovation in Action
Master innovation through real-world application: reinventing the fan experience in sports and entertainment
Programme overview
UEFA has partnered with the IMD Business School and the International Olympic Committee (IOC) to run this unique Innovation in Action Programme. This programme explores innovation, entrepreneurship, and leadership to equip Senior Management in sports organisations all they need to know to lead innovation and drive change within their organisations.
The four-month programme, starting in September 2022, makes use of the parkour, methodology, used by both UEFA and IOC, a perspective that emphasizes the non-linear context of innovation journeys. With this approach participants will acquire the necessary knowledge and develop an entrepreneurial mind-set to drive innovation within their organisations.
Throughout the different parts of the programme, participants will hear from leading experts in the field of innovation and design thinking as well as undertake various interactive group works to develop their skills. The content will provide participants with industry case studies, an understanding of design thinking and key innovation frameworks, innovation parkour and to create action plans for their own organisations. Moreover, participants will be able to generate and pitch their own innovative ideas. Moreovoer, participants will work on a concrete, real-world challenge and explore innovative ways to rethink customer journey's during and after major sporting events.
Quick view
Estimated hours of learning
Faq
Who

Senior Management in sports organisations, individual entrepreneurs

When

Once a year (Next session: 26 September 2022 to 12 January 2023)

How long

6 weeks LiVe virtual (2h per week online), 1 week face-to-face, 6 weeks coaching sessions

Where

IMD campus, UEFA HQ and IOC Headquarter

Price

8'900 CHF (7'000 CHF negotiated price for staff of UEFA member associations)

Number of participants

min. 25

Academic certification

Certificate of completion by IMD

Language

English
Important dates
29 Jul 2022

Applications close for the second edition

26 Sep 2022

Module 1: Launch - Immerse yourself.

07 Nov 2022

Module 2: Design – learn, apply and reflet.

13 Nov 2022

Module 3: Transform - Transfer learning to your own context
Takeaways
Gain a full understanding of what is innovation and the design-thinking approach
Transfer learning from participants own context and implement a concrete action plan
Learn, apply, and reflect on innovation best practices from within and outside the sporting industry
Develop a global network of participants also looking to drive innovative practices within their organisations
Reflect on and improve your own leadership style and effectiveness
WHAT OUR STUDENTS AND EXPERTS SAY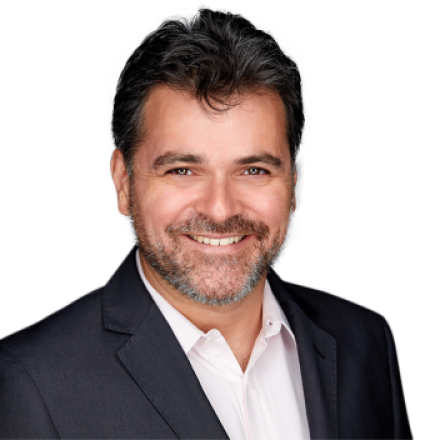 "Many organizations tell us they want to be fast, agile, and re-invent the value they can bring to business and society, but game-changing offerings are hard to come by. Most executives struggle to define what it means to be truly innovative. And they want tools that will help them keep up with the rapid pace of change occurring in their business environments."
Cyril Bouquet, Programme's Director
IMD
Roadmap
1.
Module 1 "Launch"
26 Sep - 31 Oct 2022
Immerse yourself
• Discover the program
• Define your learning objectives
• Embrace design thinking and learn key innovation frameworks
• Meet innovation experts • Introduction to real-world challenge
6 sessions (2hours each) over 6 weeks – liVe virtual classroom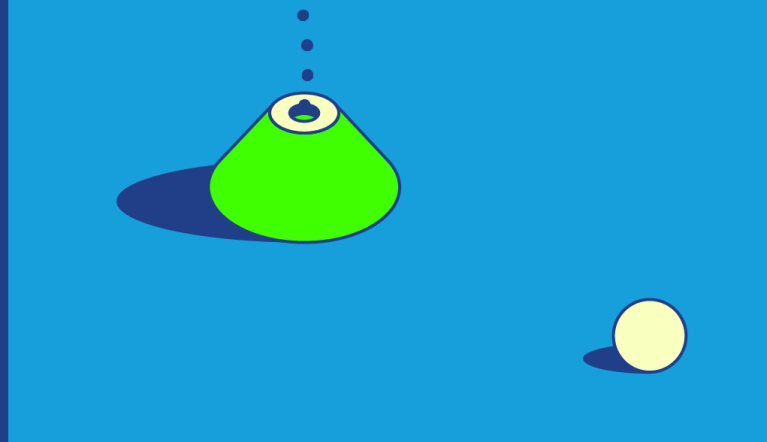 2.
Module 2 "Design"
7 Nov - 12 Nov 2022
Learn, apply and reflect
• Explore innovation best practices
• Flex your leadership skills
• Discover innovation ParKour
• Dive into a real-world innovation challenge
• Pitch your innovative ideas
• Transform innovative ideas into breakthrough solutions
• Develop your action plan
4 days at IMD campus – 1 day at UEFA HQ – 1 day at IOC Headquarter – 1 evening at Olympic Museum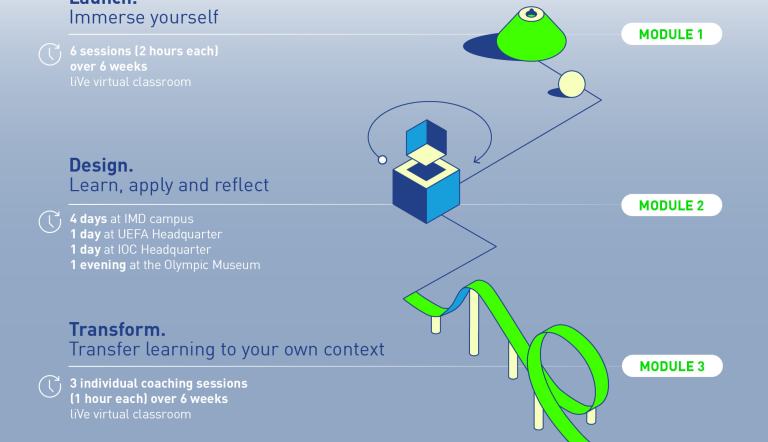 3.
Module 3 "Transform"
13 Nov - 12 Jan 2023
Transfer learning to your own context
Work with IMD coaches to implement your concrete action plan around meaningful areas of change for yourself, for your
team, and for your whole organization.
3 individual coachig sessions (1hour each) over 6 weeks – liVe virtual classroom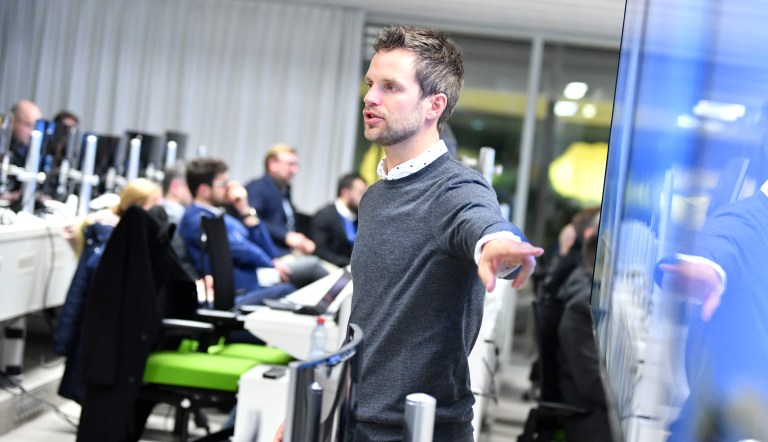 OUR PARTNERS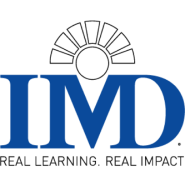 IMD Business School, Lausanne, Switzerland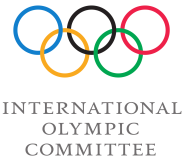 IOC

UEFA Innovation Hub